Meet the people behind the puppets!
Great puppet shows only happen with the dedicated work of hard-working, dedicated, and, well, let's face it, somewhat strange people. Everyone in the company wears many hats. Puppeteers perform, travel, build things, break things, fix things, do workshops with people, do funny voices, memorize lines, improvise, and so much more. Most importantly, though, we show up on time with all of our equipment, ready to perform!
Heid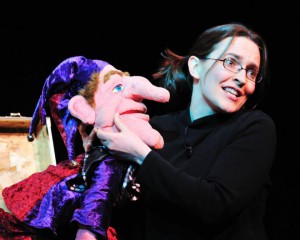 i Rugg – Founder, Director, Writer, Puppeteer, Puppet Builder, and Set Designer
Puppeteering allows Heidi to integrate her fascination with stories, goofy voices, creativity, and writing with her love for art. She began building puppets in elementary school to fulfill visual aid requirements for book reports. Anne Frank and the entire cast of characters from Lloyd Alexander's "The Book of Three" came to life that year. These first puppets were created…(Click for more.)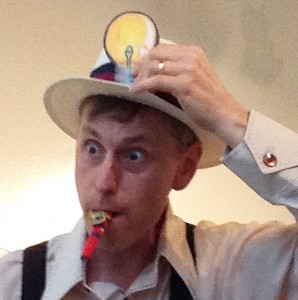 Sam Rugg: Technical Director, Driver, Set Builder, Puppeteer, Book-keeper, and Roadie
Sam has been full-time with the company since 2001. He describes his job as, "I drive the truck and carry things," but his role is so much bigger than that. In addition to his masterful driving and carrying skills, Sam keeps the books, maintains and improves the technical equipment, and designs cool scenery …(Click for more.)
Our Amazing Musicians:
Charles "The King" Arthur: Musician and Composer

A master of all things with strings, Charles is the mastermind behind the music for our newest show, "Little by Little." Charles has been an adjunct instructor and ensemble director at the University of Richmond since 2001. 
In 2005, he started the school's first Bluegrass Ensemble, and in 2008 he began the American Roots Ensemble, which focuses on the Blues.
In addition to teaching, Charles makes his living as a musician, and has toured the United States, Canada, and UK with award-winning Americana artist Slaid Cleaves. He has been featured on most of Cleaves' recordings, as well as recording extensively as a sideman on commercials, soundtracks, and other international releases.  Currently, Charles is composing and performing music for public radio's 'A Grain of Sand', which airs on Richmond's WRIR.
Eric Weinberg: Musician and Composer
Eric's talents have been instrumental (we mean that literally, of course) in composing and recording the music for many of our shows. Eric performs regularly in the DC area and has toured. He has his own state-of-the-art recording studio for his label, Little Erich Studio, in his home in Burke, Virginia.