Looking for a mainstage event that is sure to please? A show that is portable and can set up quickly in various locations throughout the day? We have options for you…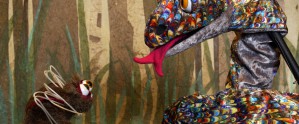 Trickster Tales can be performed outdoors and is a crowd favorite!
Little 'Bread Hen' is our "punniest" show — full of crazy antics!
The Wriggling Brothers Circus was developed especially for festivals! (Photos and info coming soon.)
Run, Run As Fast As You Can! is perfect for your youngest festival attendees and their families. (Photos and info coming soon.)