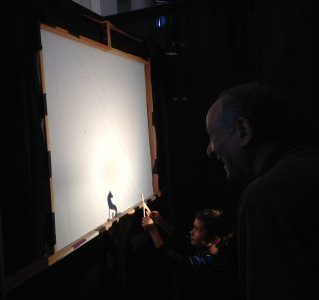 Mission
We activate imaginations through the power of puppetry!
Vision
Our touring company shares performances, workshops, and residencies with youth and families; we provide masterclasses for puppetry artists and fans of puppetry, too! We imagine a world where communities all over the world come together through the art of puppetry.
Values
Play: Humans learn best through play; we imbue our performances (and even our workshops!) with a sense of play.
Accessibility: We provide accommodations to our venues and our audiences to the best of our ability. This has included, but is not limited to: adapting our materials for sensory-friendly performances, providing backstage "touch-tours" to sight-impaired individuals, providing scripts/materials for ASL interpretation, and other accommodations.
Inclusiveness: We respect people, value diversity, and are deeply committed to equity.
Integrity: We listen to our clients and stand behind our work.
Sustainable Processes and Materials: (1) Working with locally sourced materials whenever possible. (2) Using repurposed materials, naturally sources fibers, recycled papers, and similar actions. (3) Prioritizing "well-made" over "cheap" when it comes to purchasing needed equipment. (4) Considering the entire life cycle of our creative work throughout the building and design process.