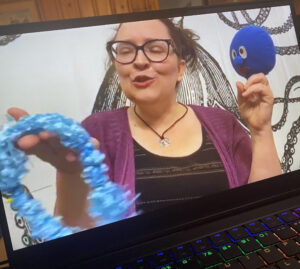 Meet Priscilla & Other Adventures
Ages 3 – 7
This series of 20-minute performances features Priscilla, a simple hand puppet whose facial features are all rearrangeable. Feeling sad? Angry? Frustrated? We all feel big emotions. Naming our feelings helps us understand them. Priscilla has big emotions, too, and they are the focus of each episode. "Meet Priscilla," "Feeling Blue," and "My Screaming Face Is Stuck" are all new offerings.
Book one mini-show or book the series for an SEL adventure. These highly interactive mini-shows can stand alone or be paired with age appropriate movement or art activities. We would love to explore the possibilities with you.
Preferred Platform: Zoom
Focus Areas: Performance, SEL, Joy, Hand Puppets, Art
Feedback: "Thanks for sharing. I have received a TON of positive feedback, with most of them saying this was their favorite 'field trip' of the summer so far!! I am so happy we got to work together and we will definitely be reaching out next summer, if not sooner!"
-a very happy preschool program director