Getting ready to go to GERMANY!
(2/22/2018)
-
It's a LOT of work trying to resuscitate a blog when you've allowed time to pass without posting anything. I am so excited about my upcoming trip to Germany, though, and am doing some fabulous prep work to get ready for it. I wanted to be sure to document everything. In my work, I've paid […]
Worskhop at Collegiate (Richmond, VA)
(12/11/2017)
-
I had such a great time sharing my Puppetry 101: Thinking Outside the Socks workshop with teachers at Collegiate in Richmond, VA. We explored rod puppets, shadow puppets, hand puppets, marionettes, and object puppets. We had such a great time and could've easily kept going for several more days, I think! Read more about the […]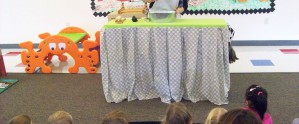 Special "Gingerbread Man" show for preschools AND birthdays!
(11/18/2015)
-
I'll be honest. I usually like to take my time when I am building a show, but sometimes things just come together fast. For the past several weeks, I have been working on a puppet adaptation of the story "The Gingerbread Man" for preschoolers. It's a table-top show with rod puppets and object puppets. Some […]