Below is an alphabetical listing of all of our touring shows to date. This includes show titles that are currently available, retired, and a few currently in development. Each show is unique with its own staging and puppets. Some shows are best suited for larger venues, others for smaller venues; some for younger children, some for upper elementary and families. If you have questions, please contact us. We would love to help you find the perfect fit!
African Trickster Tales (Archived)
Ages 4 & up. Can a spider defeat an elephant at tug-of-war? Overpower a python? Capture a cloud of hornets? With Anansi the Spider, world famous trickster, all things are possible…if you only have a plan! (More info…)
Can't Catch Me! – Now Touring! (more information coming soon)
Ages 2 1/2 and up!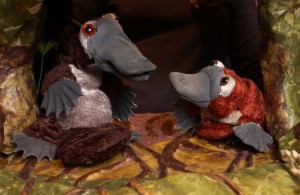 Dreamtime, Tales from Down Under (Archived)
Ages 3 & up. Experience the magic of "The Land Down Under" in this performance inspired by Aboriginal folktales. A young platypus, Billy, has a tough time being nocturnal. (More info…)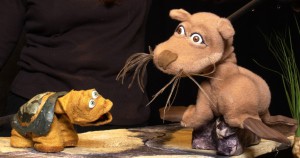 Galapagos George – NOW TOURING!
Ages 5 & up. Based on the true story of "Lonesome George," this show tells the tale of a truly one-on-a-kind tortoise from the Galapagos Islands. (More info…)
The Girl Who Cried, "DRAGON!" – Coming Summer 2024!
Ages 4 & up
(Stay tuned for details!)
Little Bread Hen (Archived)
Ages 4 & up. Inspired by the classic tale of The Little Red Hen, this version reveals the truth about what really happened that fateful day when a chicken decided to bake a loaf of bread. (More info…)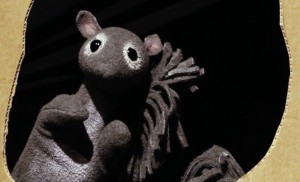 Little By Little – COMING FALL 2025!
Ages 5 & up. Shares a story of small acts that create a world of difference. Narrated by a "nutty" little acorn, this performance shares a story of regrowth after a devastating forest fire. (More info…)
Little Red and the Gingerbread Man – NOW TOURING!
Ages 2 1/2 a& up. Two tales rolled into one! Join Little Red and she pursues a mischievous Gingerbread cookie through the woods to Grandma's house. (More info…)
New Squid on t
he Block – NOW TOURING!
Ages 4 & up. It can be hard to make friends. Especially if you have tentacles. Journey to Antarctica as a curious squid seeks connection in the most unlikely of places.  Penguins, orcas, and jellyfish abound in an icy landscape for this heartwarming tale of friendship. Beautifully handcrafted puppets, an original score by Ned Haskins, and a good dose of silliness, combine to create a comedic, wordless performance that celebrates  our ability to create connections, despite our differences.
Ooey Gooey Poetry (Archived)
Ages 4 & up. Sometimes characters end up in sticky situations! This lively puppet show for young audiences features timeless classics including The Three Little Kittens and Little Miss Muffet. (More info…)
Vegetables Destiny – COMING 2025!
Ages 4 & up. Vegetables' Destiny is a puppet show that tells the tale of a plate of vegetables that might not get eaten and celebrates the destiny of these edible characters as they grow through the seasons in the garden. (More info…)
Wriggling Brothers Circus – NOW TOURING!
Ages 3 & up. Designed to move around quickly at festivals and fairs, this performance is a take on the old-fashioned flea circus, but features earthworms and other creepy crawlies who walk the tightrope, do a high-dive, and even get shot from a cannon. (More info…)