Now Touring – LIVE!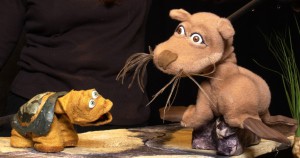 Galapagos George
Ages 5 & up
Based on the true story of "Lonesome George," this show tells the tale of a truly one-on-a-kind tortoise from the Galapagos Islands. (More info…)
---
New Squid on the Block
Ages 4 & up
It can be hard to make friends. Especially if you have tentacles. Journey to Antarctica as a curious squid seeks connection in the most unlikely of places.   (More info…)
---
Little Red and the Gingerbread Man
Ages 2 1/2 & up
Two tales rolled into one! Join Little Red and she pursues a mischievous Gingerbread cookie through the woods to Grandma's house. (More info…)
---
Virtual Offerings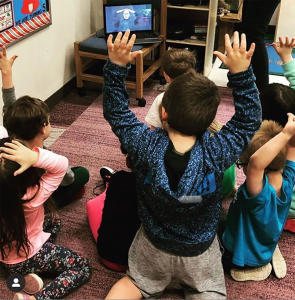 Adventures with Priscilla
Ages 3 & up
A series of 20-minute performances featuring Priscilla, a simple hand puppet whose facial features are all rearrangeable. Feeling sad? Angry? Frustrated? Naming our feelings helps us understand them. Priscilla has big emotions, too, and they are the focus of each episode. "Meet Priscilla," "Feeling Blue," and "My Screaming Face Is Stuck" are all new offerings. These mini-shows can stand alone or be paired with age appropriate movement or art activities.
---
Thinking Outside the Socks
All Ages
Our highly popular STEAM presentation is now available virtually. See how puppets work from the inside out! We demonstrate rod puppets, hand puppets, shadow puppets, object theatre, and marionettes. We share each type of puppet with age-appropriate mini-lessons on pivots, levers, springs, and more. Time permitting, participants have an opportunity to ask questions about the puppets.
---
Emoji Puppets
Using simple materials, we will create hand puppets in a variety of expressions  inspired by our favorite emojis or moods. Feeling blue? Frustrated? Teeming with glee? Let it out with puppets! Great for rainy days at home or a dash of SEL in the classroom. This program is available to small groups, big groups, classrooms, families, senior centers, and anyone to liven up their day. Adaptable to most ages; some very young children may require assistance.
---
Instant Puppets!

Make puppets quickly and learn how they work in this workshop designed for ages 5-105. You can learn the skills of puppetry, and there are ways to make puppets simply with minimal supplies. Learn how to manipulate this type of puppet as we walk "across the stage," take an elevator, and defy gravity! This workshop is available to families, classrooms, homeschool groups, libraries, and arts organizations. Perfect for a single, stand-alone session or as part of a series. Adaptable to most ages.